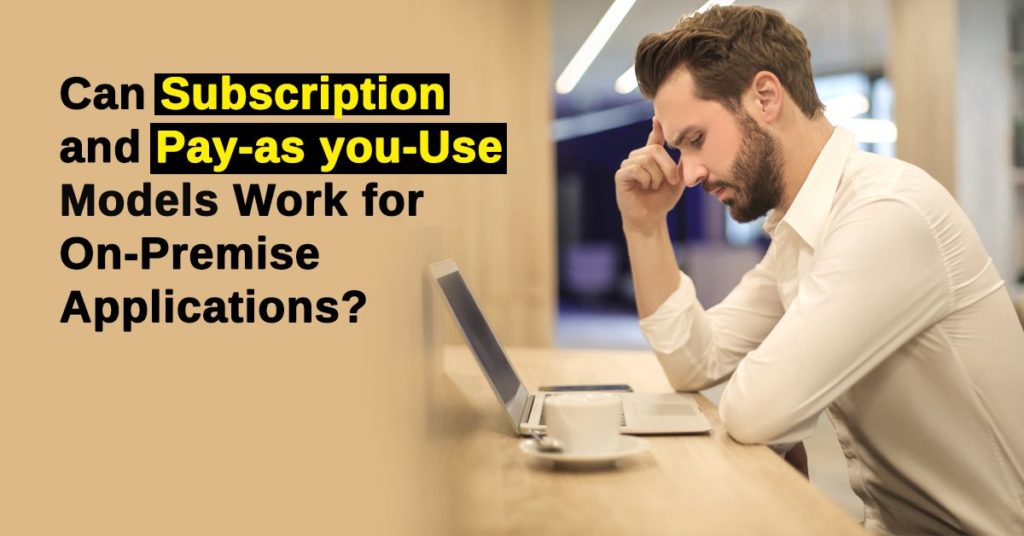 As the global economy emerges from lockdown, restoring your revenue growth and sales momentum will be the number one challenge. This is an opportunity for some "out of the box" thinking with On-Premise applications.
One strategy is to reduce the up-front investment cost for your customers to accelerate the buying process. It's a key reason why many SaaS Vendors can get an early foothold in companies relatively easily and can then grow and expand.
Both customers and vendors can benefit if investment decisions can be kept below budget approval threshold levels. Lengthy and costly Tender processes can be avoided, and Operating Cost Budgets rather than CapEX can be used where possible. Trends show that customers clearly prefer the benefits of subscription or usage models across the board. Even hardware appliances and device-based solutions like Cisco have experienced positive sales growth through moving its network switches to subscription pricing.
For traditional On-Premise applications Vendors who cannot easily create SaaS versions of their application, it is still possible to introduce SaaS Like charging models, but this does present both financial and technical challenges.
Subscriptions
Financially, amortizing or deferring revenues over two-plus years will have a negative effect on sales figures and result in less upfront cash. Initially, cash flow will be affected so having adequate financial resources is a prerequisite. However, in most cases, the cash flow implications have proven to be a worthwhile investment with a medium to long-term pay-back through new customer wins and greater revenue in the longer-term.
From a technical perspective, your Application Licensing must be able to control subscription terms and be easily managed by both Vendor and Customer. Subscription-based Licence Management can be used with on-premise solutions, but most traditional key-based perpetual licensing solutions will struggle to support this.
Usage
We are all used to the Prepay and Pay-as-you-Go pricing plans on our mobile/cell phones, with monthly subscriptions including base usage and excess charges for out of band usage.
For some On-Premise Vendors, a combined subscription and usage model may be more effective than a simple subscription and can help introduce up-sell opportunities.
Usage charging brings additional financial (billing), technical, and licensing challenges.
Linking feature/transaction usage with licensing needs careful consideration and planning.
Security and Trust, depending on the level of Internet Connectivity at customer sites are key considerations if you are concerned about the integrity of user data.
But, if you get it right, consumption-based charging can also be a great way to effectively up-sell to your customers.
Benefits
Organizations that have introduced Subscription or Usage models not only charge differently than perpetual license companies, they also engage in a more pro-active way with customers, potentially building closer relationships.
There will be challenges but if your License Management system can support these changes, a real return on investment can be achieved very quickly.
Businesses will soon be getting back on their feet. Now is a good time to think about new ways of engaging with your customers and prospects and introducing flexible price plans that include subscriptions and usage-based options.
If You're Interested to Read more Related blogs Click the Links Below.
For more information on flexible licensing management – visit www.inishtech.com