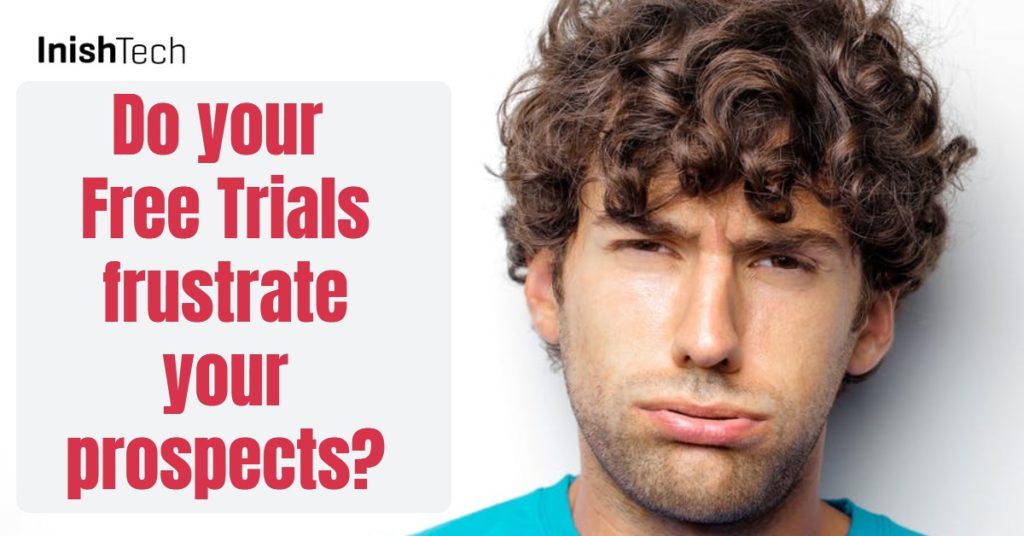 Your market is likely going through a significant hit from the pandemic. As with previous impacts, markets will recover, but with forced changes from working-from-home, so much will be different.
Now is the time to improve your sales approach and make it easier for customers to engage and to buy from you. Covid-19 travel and meeting restrictions are forcing companies to make purchase decisions through remote interactions. You now have the opportunity to reduce the friction in your sales and give customers what they want in evaluating your solution.

Managed Trials are highly effective if "managed" properly. A Managed Trial is not merely an automated "Customer Journey", bombarding customers with emails. Automated processes often 'forget' the purpose of the Managed Trial; to ease your prospects' experience in evaluating the relevant features and buy your solution.

The common mistakes in offering Free Trials are:
Relying on "One-size-fits-all" time-based evaluations that ignore customers specific requirements
Failing to adapt trial versions to particular market segments or user-scenarios
Not tracking metrics to see how trial users are using specific features
Failing to react to usage metrics and not updating the trial with relevant features or extending trial periods.
Putting off prospects with onerous registration/enrolment processes?
Many good prospects will quickly go elsewhere if they don't see the benefit to them or if they face cumbersome registration/enrolment processes.
Your trial process should be 100% focused on meeting the needs of your prospective customer:
Tailor the evaluation to the target customer type
Make it easy for the user to evaluate the relevant features of your product
Monitor evaluation activity and encourage feedback and interaction
Actively manage trial feedback to adapt to individual needs
Allow existing customers to quickly and efficiently evaluate more advanced features
For effective Managed Trials, Product Managers need their Licensing Management System to enable:
Quick and easy generation of evaluation SKUs/Product Feature-sets to allow you to address different market segments
Flexible creation of new SKUs/Product Feature-sets configuration options on demand
Generation of custom trial licenses to meet specific requested requirements
Extending an evaluation or changing feature mix mid-evaluation
Monitoring activated trial licenses; when, where and details of usage
Restoring your solution feature-set to limited functionality at the end of the trial period, e.g. all advanced features disabled
Provision of optional in-app user feedback or requests, e.g. select feature-set, extend the trial, add/remove features etc.
If finding the resources is an issue, consider a sub-function of your sales team, 'Managed Trials as a Service' provided by an in-house team or outsourced.

Managed trials are a great way to increase revenues by improving your sales approach. Focus on what your customer needs. Observe how customers really want to use your solution rather than blind automated email customer journeys.

Give your Sales sub-function Managed Trials team the Licencing flexibility to serve their users and boost conversion targets and grow sales.
For more information on flexible licencing management – visit www.inishtech.com