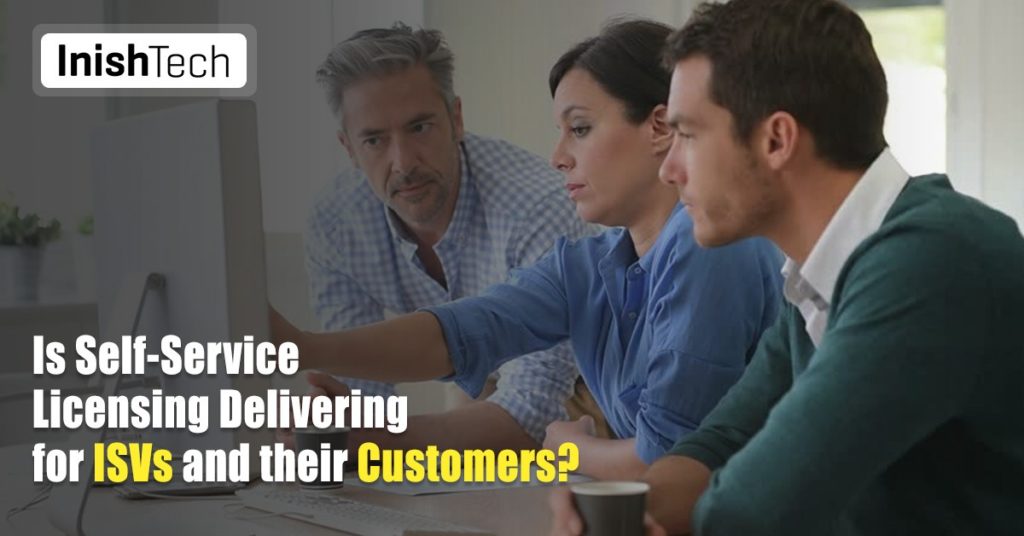 Industry Leaders such as Microsoft and Adobe were some of the first major industry players to embrace the concept of Self-Service Licensing. Their aim was to make it easier for customers to manage the licenses that they have purchased via a Customer Portal and to streamline customer interaction to reduce friction.
The benefits for customers and vendors of Self-Service Licence Management are evident. Customers get better utilization of software assets, a licensing service that is responsive to ongoing organization changes, real-time license monitoring, and asset management, etc. Vendors see increased customer satisfaction, reduced customer support costs, less need for costly and disruptive audits, and if implemented correctly, new upselling opportunities on new releases, etc.
These Self-Service models have been in place for several years now and more and more ISVs are adopting them, so it is timely to look at how successful customer-managed licensing has been in achieving those objectives and how has it helped organizations to cope with the recent move to flexible working conditions.
Very few companies could have foreseen the enormous impact that the Covid epidemic could have on the way that we work. Overnight, companies were forced to shift to at-home working and had to quickly figure out how employees could be efficiently provisioned with the appropriate software to enable them to continue their daily tasks. ISVs that could allow their customers to seamlessly switch licenses between devices and re-allocate licenses between users could address this challenge immediately. On the other hand, there are numerous horror stories of companies taking weeks to deal with the backlog of customer requests to re-deploy their licenses resulting in downtime for customer employees and huge levels of frustration.
The experiences of the past twelve months have certainly reinforced the need for more customer control in the licensing process for everybody involved so it is likely that this trend will continue at pace. As organizations adapt to more flexible, hybrid office/home working, there will be an ongoing requirement to efficiently manage licenses in highly distributed, dynamic work environments. For example, in project-based organizations, software licensing requirements change over time, with a different mix and volume of licenses required at different stages. In some cases, this is compounded by temporary external contractors that may require licensed software.
It is also interesting to see the same approach is now being implemented by Technology leaders like Intel and Teledyne who have introduced automated self-service licensing portals in a wide range of software applications, particularly in areas such as Intelligent Devices and IoT which operate in highly dynamic environments that need close to Real-time management of entitlements to prevent bottlenecks developing.
With Self Service Management of Licensing, as with any business process, the features provided, and the workflows involved must be fit for purpose. Otherwise, bad design can simply replace one set of frustrations with another. Ease of Use coupled with streamlined processes is required to ensure customers can efficiently manage software resources for their users with maximum flexibility and minimum delay. Not every implementation is the same and ISVs need to carefully think through how even simple issues like reaching maximum users are managed to avoid causing any unnecessary delays.
License Management for end-users has changed significantly for the better. It will be interesting to see how long the more traditional inefficient and time-consuming approaches can survive given the experience of the past year and the push by major industry players to provide more control to customers and users.
For more information see www.inishtech.com and Connect with us.