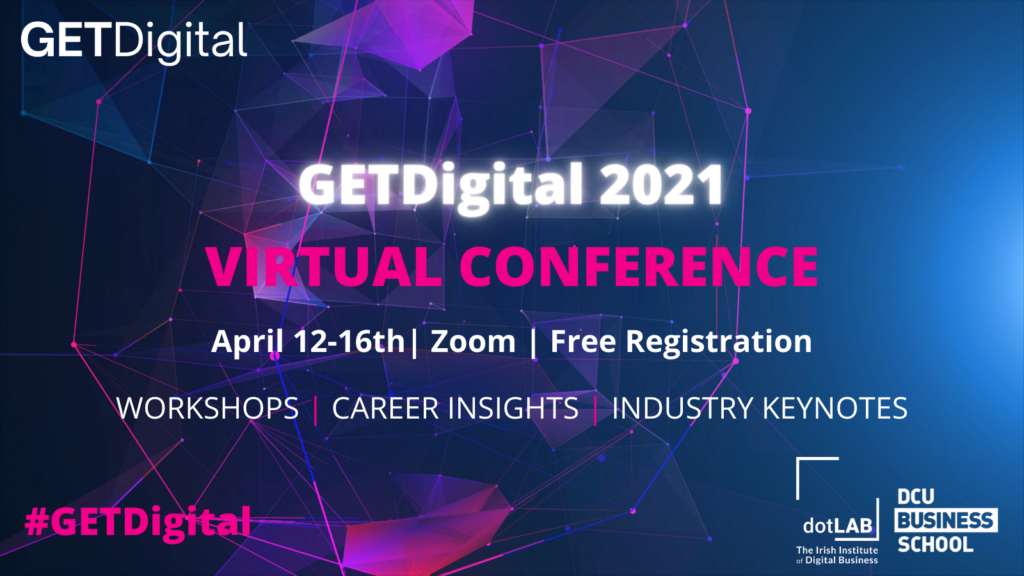 Aidan Gallagher, CEO of InishTech, will be chairing two Sessions at this year's GETDigital 2021, a virtual Conference running from April 12 to April 16, organised by IIDB, The Irish Institute of Digital Business". Aidan is Chair of the External Advisory Board of IIDB.
60+ Speakers | 35 Sessions | 5 Days
Starts on April 12 to 16, 2021
Digital technologies are transforming how we live, work and play. This free virtual conference is designed to discuss how entrepreneurs and businesses can harness digital technologies to achieve their business goals. Whether you're looking for insights into marketing, e-commerce, strategy or even some inspiration, GETDigital has something for everyone.
Don't forget to register and submit your AMA questions for GETDigital – registrations close this Sunday!
– Click here to View Schedule Now
– Click here to Explore all Speakers at this Event
What Should You Expect?
Early Morning Sessions – At 09:15 and 10:30 each day, you can hear from Irish and international experts, digital marketing pioneers and leading practitioners.
Ask Me Anything Panels – At 11:45, a panel of experts and practitioners answer your questions on social media, content marketing, SEO, e-commerce and PPC.
Career Insights – At 13:00, gather advice on employment in the digital sector with insights into CVs, cover letters, and job interviews.
Afternoon Sessions – At 14:30, 15:45 and 17:00, hear from Irish and international experts and renowned motivational speakers.